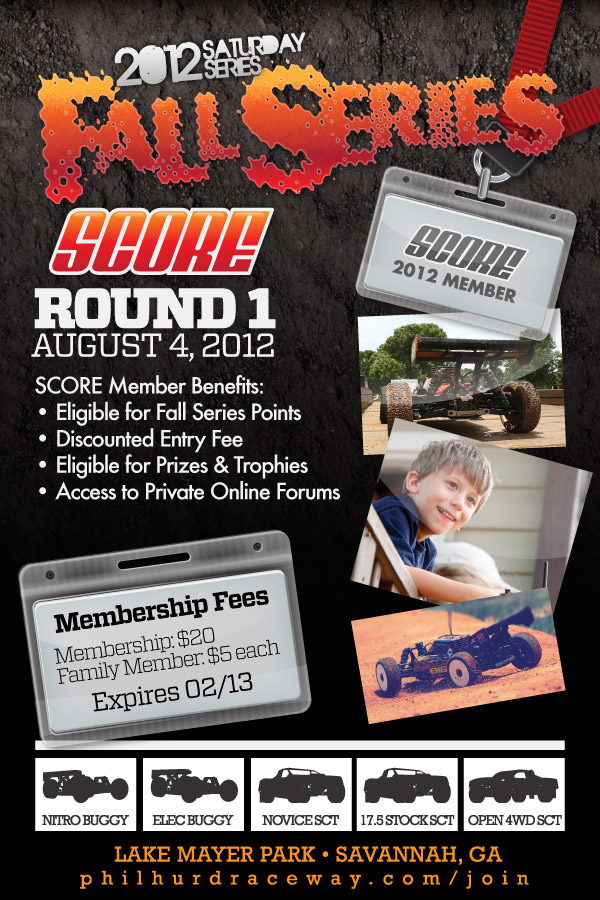 Round 1 of the SCORE Fall Series will run August 4th, starting at 4PM. This series is a little different from our Spring Series, so please take note!
You must be a SCORE member to be eligible for points!*
5 Bonus Points are awarded to the top qualifier (TQ)
5 Bonus Points are awarded to any participants who attend all 5 races
1 Special Prize will be raffled off at each race! (More info coming)
The points series will include the following classes:
1/8 Nitro
1/8 Electric
Novice 1/10 2WD SCT
Sportsman 1/10 2WD Stock SCT – 17.5 SCT
Open 1/10 4WD SCT
Membership
Starting August 4th, a half-term SCORE membership will be $20 until our February 2013 Membership drive. Family members can be included for just $5 each. Members get discounts on entry fees, are eligible for points series and prizes, and get access to our private Track Talk forum. If you can't make it out to the track, you can sign up online, too.
We hope to see you there!
S.C.O.R.E.
Savannah Chatham Off-Road Racing Enthusiasts
*As always, anyone is welcome to race! Points are awarded based on the order of point competitor finishes.